Private Lessons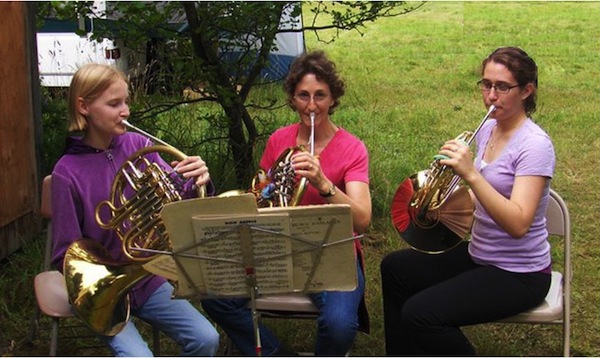 I enjoy teaching very much - I've taught a variety of classes, from engineering to silk-painting, but horn lessons really allow me to connect with the students.
The best part is helping each student discover all the voices of the French horn: lyrical, heroic, and even jolly.
My goal is to help each student enjoy playing the horn as much as I do by giving them techniques to strengthen their abilities using music that they choose to play.
Horn players of all levels are welcome, and it's particularly inspiring to work with beginners and come-back players.
Click here to learn more.
Presentations For Schools
My collection of instruments from around the world has inspired curiosity in students of every age, from pre-K through adults.
When they see the variety of instruments, some man-made and some slightly-altered natural objects, they can't wait to hear how each one sounds and find out more: where the instruments are from, how they are played and how they are made.
The demonstrations include some acoustical science and cultural history too. I leave plenty of time for my favorite part: question & answer time.
Click here to learn more.