Chamber Music and Jazz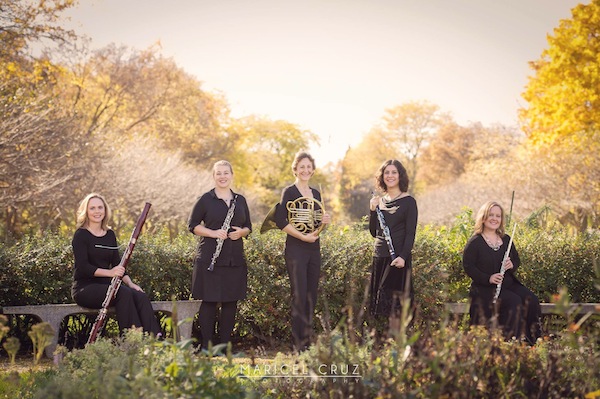 Sapphire Woodwind Quintet
The Sapphire Woodwind Quintet has been entertaining audiences with eclectic programs since 2004. Sapphire has performed on concert series all over Chicagoland, including the Dame Myra Hess Memorial Concert Series, Mostly Music Chicago, the Nineteenth Century Club, and the Noontime Concerts at the University of Chicago. Sapphire has also been broadcast live on WFMT performing in Preston Bradley Hall.
The members of Sapphire Woodwind Quintet are dedicated music educators and enjoy "planting the seeds" for another generation of live music enthusiasts. They were selected by jazz musician Orbert Davis to perform in Chicago schools as part of his Discover Music: Discover Life program.
Sapphire Woodwind Quintet is known for its original programming that includes Klezmer music, folk songs from North and South America, arrangements of jazz standards and pieces showcasing ethnic instruments. Their goal is to surprise audiences with fresh music and share the joy of live music with their listeners.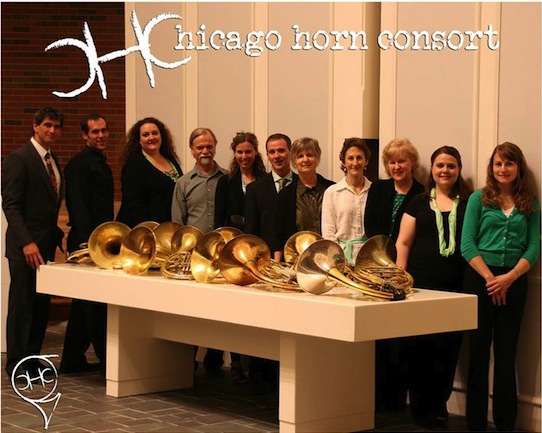 Chicago Horn Consort
The Chicago Horn Consort is a large ensemble comprised of dedicated professional French horn players from the Chicagoland area. The group is fortunate to have talented arrangers among the members and has premiered many new works and arrangements. Performances include an engaging variety of music, from 5-part madrigals to 8- and 10-part transcriptions of works by major composers, along with music composed specifically for horn ensemble.
The Chicago Horn Consort has performed at many venues, including the Daley Plaza, the First United Methodist Church at the Chicago Temple, Wheaton College, and Winnetka Covenant Church. Members of the Consort participated in the farewell concert for Dale Clevenger at Orchestra Hall, and performed on two recitals at the 2013 International Horn Conference.
Cathedral Brass Quintet
The Cathedral Brass Quintet has been performing concerts in Chicagoland for over 2 decades, bringing its refreshing arrangements to venues such as Harper College and St Paul's Cathedral. The quintet is an annual favorite at the Sankta Lucia celebration concert at Covenant Church in Schaumburg. A CD of the group can be found at www.cdbaby.com/cd/cathedralbrass.
Jeff Hedberg & C11 Jazz
Jeff Hedberg & C11 is a 12-piece, Chicago-based jazz ensemble, founded and lead by jazz vocalist/trumpeter and Blujazz Recording Artist, Jeff Hedberg. The group, formed in April 2008, performs jazz in the West Coast "Cool" style. C11 focuses on the masterful "Dek-tette" arrangements that come from the pen of Marty Paich and were often performed by Mel Torme.
While we originally used two trombones, I quickly realized the timbre of the French Horn was missing as it was a key voice in making this music unique. I had initially shied away from the French Horn out of simplicity. It was much easier to find two bone players, one with solid high chops and another outstanding soloist than it was to initially find a French Hornist with an affinity for jazz. It wasn't until I had found a French Horn player (Lisa Taylor) that I was inspired to start recording these charts...
Jeff Hedberg, jazz vocalist and trumpet player, Blujass Artist, Leader of Jeff Hedberg & C11 Jazz
Please visit these two CDBaby pages for excerpts and downloadable tracks by Jeff Hedberg & C11 Jazz.